Printed Folder Design and Brochure Insert
Here we have a printed folder design with brochure insert that we designed for our client Richard Jackson. This folder was produced to hand out to new residents on a new build housing estate to raise awareness of the more economical ways they can make their way around their new local area.
The printed folder design was produced in full colour with large, eye catching images. We sourced many of the images on behalf of our client carefully matching the images to the services being described. Each service or 'way to travel' being symbolised with custom designed graphic icons, these were also supplied for use on the website. The folder design also featured a pocket and a gusset to allow for the printed brochure and other additional printed materials. The folder had a cut window to allow the welcome pack to be addressed to the new home owner.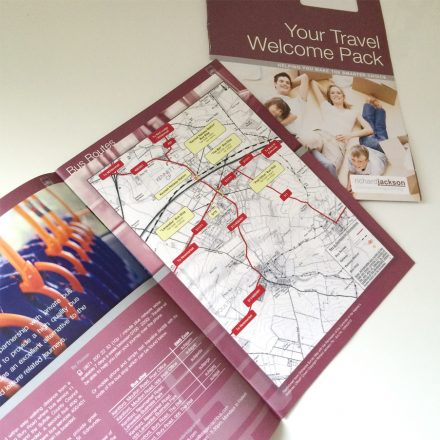 Printed onto a strong, rigid stock this printed folder has a quality feel and look. Richard Jackson provided me with all the logos and OS maps where required. The folder and brochure insert compliment each other with matching design features. Being wire bound it should last as a keepsake for the new residents.