Everett Decorating Vehicle Graphics Ipswich
Everett Decorating came to us looking for vehicle graphics for their decorating business' van. After creating them a logo they asked us to design the look of their van. Vehicle graphics are essential if you run a business that uses a work vehicle – it is a a great way of advertising with minimal initial investment. For this design we stuck to the key solid colours that we had used for their logo and stationery. Solid colours create a great bold design when in a large scale. Basic points of contact provided in the design for people to take note or photograph for future reference.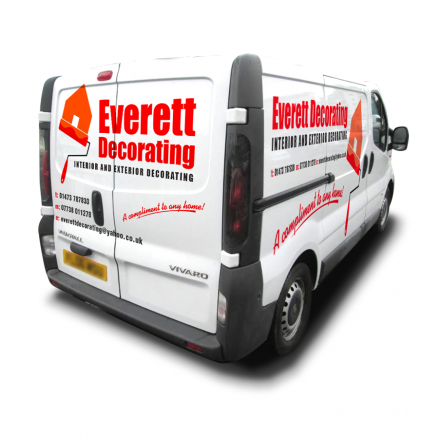 When designing van graphics it is important to remember less is more, the more there is to see on a vehicle the less likely the potential customer is to see the crucial information. Remember they could see you as they drive by at 70mph. Most people can be found online by searching for their company name and location these days but an easy to read/see phone number or website is a must.
We always carefully consider the placement of the graphics too, we don't want any mishaps when it comes to the doors being open and 'bad' words being created!